Sustainability for the Win!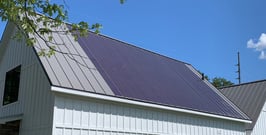 In addition to the long term aesthetic value and service life, Metal roofing and siding is one of the most sustainable building materials available. Not only can this class of products help reduce electrical load and utility bills by 25%-30% but it's also 100% recyclable.
Sure other products like asphalt shingles claim they can be recycled but the reality is they rarely are. Metal products on the other hand have long recognized as the most recycled product in America. Metal roofing is also an outstanding host product for solar applications.
Want to chat more about your project specifics to see if metal roof or wall panels could be a sustainable choice, contact us here.
Thermoforming

Long term customer satisfaction is our top priority at McElroy Metal. As a result, we're constantly looking for ways to do things better, even if it means making investments in new equipment. Thermoforming (or warm forming) is just one example of our customer commitment.
Traditionally steel panels have been manufactured from steel at room temperature. While that process worked for decades, new advances have proven that warming the steel prior to production can result in a better product with a longer life expectancy for Silicone Modified Polyester (SMP) paint systems.
Thermoforming technology is just one more thing we're doing different than our competitors to earn your business.
Read more about thermoforming metal panels