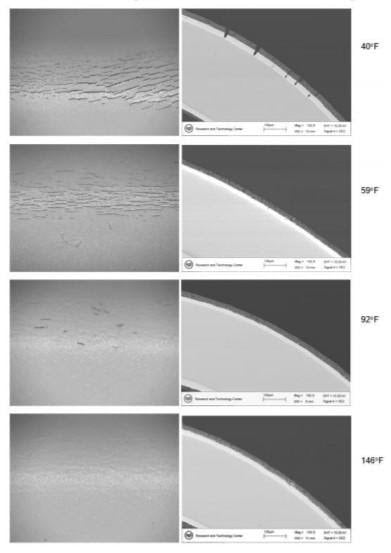 Tension bend micro-fractures shown on panel surface. As temperature increases, micro-fractures are reduced.
Roll-forming processes have traditionally been carried out at room temperature. To prevent tension-bend cracking, McElroy Metal practices warm roll forming at some manufacturing locations. During the warm forming process, the painted material is heated to 120°F to 170°F using infra–red heaters prior to entering the forming rolls. Roll-forming in this manner can significantly reduce the incidence of tension-bend cracking.
Silicone Modified Polyester coatings are in the "better" category when it comes to paint performance (PVDF or Kynar 500 coating are "best"). Hardness is a known characteristic of SMP coatings is the fact that the systems can be brittle and micro-fracture during the roll forming process. These microscopic fractures can enable moisture to penetrate the SMP coatings and contact the raw steel, which can result in rust along roll formed edges on tight radius bends. The metal roofing industry refers to this phenome as tension bend staining. McElroy Metal warm forms Max-Rib II and Max-Rib 100 panels to lessen the risk of tension bend staining. Warm forming heats up the coil so the SMP coatings are softer and more flexible, eliminating micro fractures.
McElroy Metal does not warm form Max-Rib Ultra because Kynar 500 coatings are softer and more flexible than SMP coatings and do not micro facture during the roll forming process.
US Steel Technical Bulletin Thermoforming Flyer Performance Flyer