AIA Continuing Education Programs
McElroy Metal offers several AIA Continuing Education courses. Contact your local representative to arrange a presentation or contact us at info@mcelroymetal.com
MMAIA5 Metal in Architecture (1LU) (Instructor led face-to-face): A course to help gain a general understanding of the principles of metal roofing systems, including common profiles, manufacturing processes, good design practices and common pitfalls to avoid.
MMAIA16-2 Evolution of Standing Seam Roofing (1LU|HSW): This course follows trends in roof panel design, materials, manufacturing methods, testing and overall performance over the past 30 years. This course will touch on the different roof system types that evolved over the years, their strengths, weaknesses and where the industry is heading.
MMAIA24 The Evolution of Insulation Delivery Methods (1LU|HSW): This course provides the learner an understanding of the evolution of insulation delivery methods and benefits of using insulated metal panels (IMP's) in project designs. After completion of this course, the attendee will understand ASHRAE 90.1 and how IMP's can help meet building code: gain exposure to various manufacturing processes for IMP's and learn the benefits that IMP panels offer to building designers and owners over conventional construction methods.
McElroy also offers an online continuing education course in metal roof design for architects at AECdaily.com.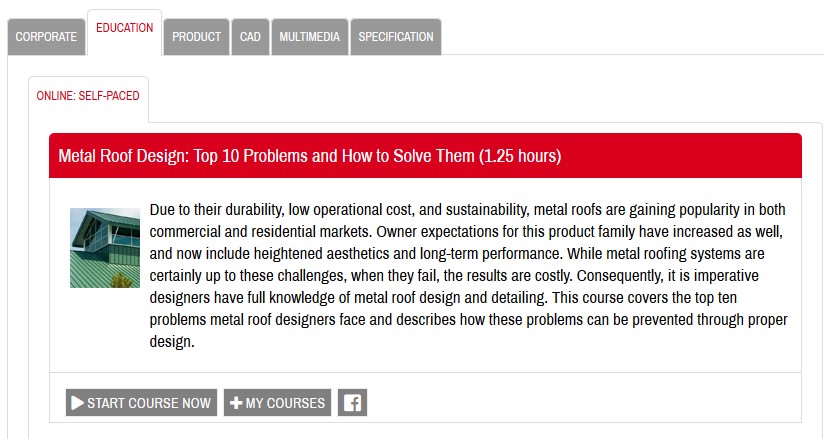 The course, Metal Roof Design:"Top 10 Problems and How to Solve Them", is based on an article and seminar conducted for the Roof Consultants Institute by metal roofing industry experts Brian Gardner and Charlie Smith and can be accessed by members at https://www.aecdaily.com/sc.php?node_id=1919890&tabidx=education&company=McElroy+Metal%2C+Inc