Download this brochure for more information
Coatings
The coating system, or paint, for metal panels is just as important as the substrate. For the life of the panel, the surface, or coating, will be exposed to environmental elements - ultraviolet sun rays, acid rain, dirt, etc. Over time, these environmental conditions will break down the coating resulting in panel fade and chalk. Fade and chalk are not pleasing to the eye, and the degree of fade and chalk is directly related to the coating system. The most popular coatings for metal panels are Kynar 500 (PVDF), Silicone Modified Polyester (SMP) and Polyester. Of the three, Kynar 500 (PVDF) coatings provide the best protection against fade and chalk and are proven to provide the best long-term performance.
Kynar 500 (PVDF) coatings are the best for a long service life, color retention, and chalk resistance. Selecting Kynar 500 (PVDF) means long-lasting "like new" appearance year-after-year versus Silicone Modified Polyester (SMP) coatings, which can begin to degrade and look aged after only a few years.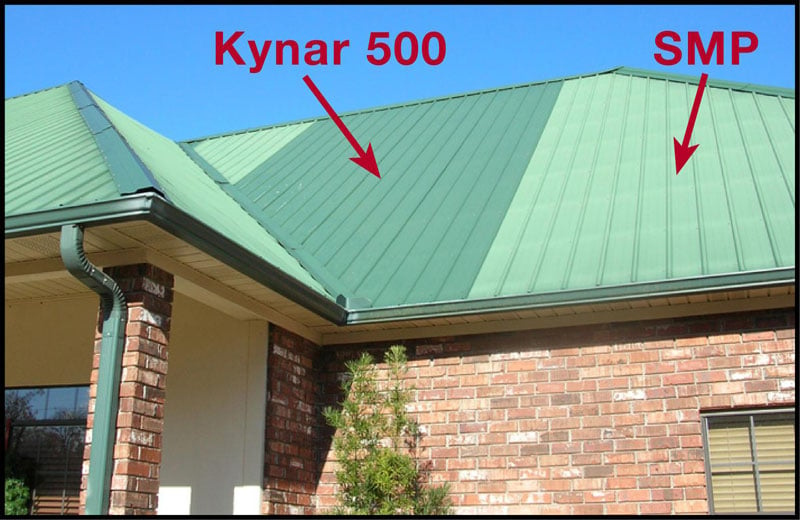 Both Kynar 500 (PVDF) and Silicone Modified Polyester (SMP) panels were installed on this project in Louisiana. On day one, the colors were identical. The above photo, taken eight (8) years later shows fading and chalking of the now lighter SMP panels. Note, no fade or chalking on the darker Kynar 500 (PVDF) panels.
The building below dramatically illustrates Kynar 500's superior performance. This building was built in two phases, nine (9) years apart. Note, no color difference in the two halves of the roof. No Fade! No Chalk!

As indicated above, high performing substrates and coatings are important when long-term performance and aesthetics are important. Warranties are also a consideration when selecting a metal panel. Consumers often associate warranty with dependability and performance. This is not necessarily the case. Just because a warranty has an extended time frame (45 years or even a "lifetime"), it does not necessarily mean that the warranty is better or that the product offers better performance. We encourage you to fully read and understand your supplier's warranties. Learn more about roofing warranties.