Hours
Monday - Friday | 7:30 - 4:30
About This Service Center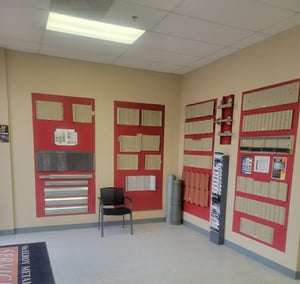 Our Baltimore service center team strives to be Baltimore's resource for Metal Roofing, Siding, and substructural components. McElroy Metal was founded in 1963 and has established 14 manufacturing facilities and 27 Service Centers across the US. Our Baltimore team is your local connection to a national leader in the metal component industry.
We welcome contractors, suppliers and end-users to visit our showroom to learn more about metal roofing and discuss the best McElroy products for each individual project and application.
McElroy's extensive product offering includes 11 standing seam profiles, 12 exposed fastened panels, as well as concealed wall panels, soffit, fascia, and substructural Cees and Zees.
For customers that roll form panels, we offer slit coil in a variety of colors, widths and gauges. We also inventory 24 gauge flat sheets for contractors that fabricate their own trims and copings.
Our Baltimore Service Center has manufacturing equipment onsite to provide trims and flashings to meet customer specifications.